Golden Week 2019
The Golden Week is a collection of four national holidays within seven days. In combination with well placed weekends, the Golden Week becomes one of Japan's three busiest holiday seasons, besides New Year and the Obon week.
Trains, airports and sightseeing spots get very crowded during Golden Week, and accommodation in tourist areas can get booked out well in advance.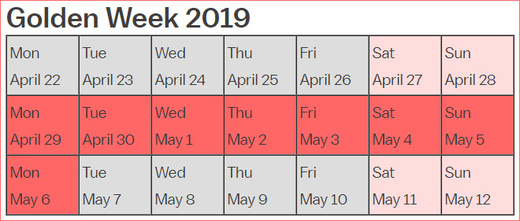 In 2019, the Emperor is scheduled to abdicate on April 30, followed by the ascension to the throne of the new Emperor on May 1 which will be made a national holiday. As a result, April 30 and May 2 will also become national holidays (because according to law, a day between two holidays also becomes a holiday), creating an unprecedented, consecutive 10-day holiday from April 27 to May 6. Travel activity is expected to peak around the beginning and end of the holiday period.