Greetings by the Chairman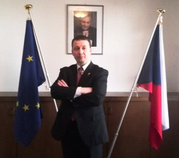 Dear members, partners and friends,
I am very pleased to welcome you all at our homepage. We founded CCCIJ in July 2013 and officially approved by the Japanese Ministry of Industry and Trade the following year 2014. We support the interests of Czech companies doing business in Japan as well as Japanese companies interested in doing business in the Czech Republic.
Although business between the two countries has increased steadily over the years, we can see a lot of the untapped opportunities. The CCCIJ has an important role to play. As a non-profit organization, I believe that we complement the functions of the Czech Government, Embassy and Trade Agency by providing a framework for networking opportunities and informal exchange of knowledge and experience. We are also a valuable community for support, inspiration and enjoyment for all of our members.
We encourage participation in all activities, business as well, and social-related too. We also work in close cooperation with the Czech Embassy, Czech Trade and Czech Invest, Czech Tourism and Czech Centre. We promote the Czech brand in business and cultural contexts.
Yours sincerely,
Roman Watanabe
Chairman