(June 19, 2019) Invitation for 11th Czech Business & Culture Networking Event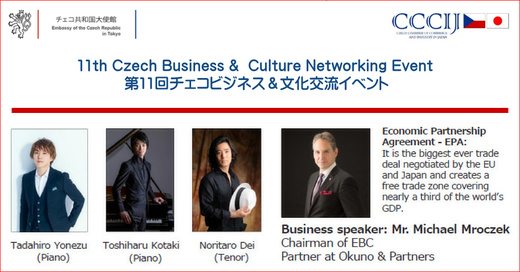 在日チェコ商工会議所の会員、ビジネス・パートナー、ご友人の皆さまへ
2016年にスタートした「チェコBCN(ビジネス&文化交流)イベント」は11回目です。 ビジネスセッションでは、欧州ビジネス協会(EBC)の会頭をご紹介させて頂きます。日EU経済連携協定(EPA)についてプレゼンを行います。プレゼン後、文化セッションではクラシックコンサートを用意しております。
お楽しみください。
皆様のご来場をお待ち申し上げます。
在日チェコ商工会議所、会頭渡邊ロマン

- - - - - -

⽇時:2019年6月19⽇(水)18:00〜20:30(17:30 受付開始)
場所:駐⽇チェコ大使館、大広間レセプションホール (東京都渋谷区広尾2-16-14)
アクセス:日比谷線広尾駅歩き約10分
会費(当⽇現⾦のみ):
5.000円(CCCIJ会員)7.000円(一般・非会員)5.000円(学⽣)
* チェコのワイン、ビールとチェコ料理をお楽しみください

プログラム:

◆ 17:30 開場・受付開始
◆ 18:00 開会・ 歓迎のご挨拶
駐日チェコ共和国大使

◆ 18:10 ~ 18:30 ビジネスセッション
欧州ビジネス協会(EBC)と日EU経済連携
協定(EPA)について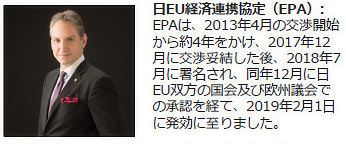 スピーカー: ミハエル ムロチェク 氏
欧州ビジネス協会、会頭
奧野総合法律事務所、外国法パートナー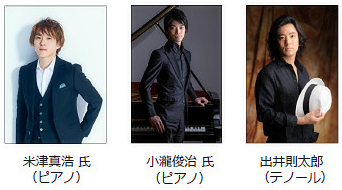 ◆ 18:30 ~ 19:00 文化セッション
クラシックコンサート
米津真浩 氏(ピアノ)
小瀧俊治 氏(ピアノ)
出井則太郎 氏(テノール)
----
「スラヴ舞曲」A. ドヴォルザーク
「カルメン幻想曲」G. ビゼー
「リベルタンゴ」A. ピアソラ
「マルタの祈り (1968)」
マルタ クビショバ (出井則太郎、テノール)
----
◆ 19:00 ~ 20:30 ネットワーキング交流会

◆ 21:00 終了予定
【ENGLISH】
Dear members, business partners and friends of the Czech Republic,

Czech Business & Culture Networking Event (Czech BCN Event) started in February 2016 organized by CCCIJ with great support of the Czech Embassy in Tokyo. This time we are more than happy to announce its 11th edition. During Business session we will introduce Chairman of the European Business Council in Japan (EBC) who will present EPA – Economic Partnership Agreement between EU and Japan. After presentation we prepared a concert of classic music. We are looking forward to seeing you all.

Roman Watanabe, Chairman
Czech Chamber of Commerce and Industry in Japan (CCCIJ)

- - - - - -

Date: June 19th (Wednesday) 2019, 18:00 ~ 20:30 (17:30 Door open)
Place: Embassy of the Czech Republic in Tokyo, Big Reception Hall
Participation Fee (pay at entrance - cash only):
5.000 yen (CCCIJ member) / 7.000 yen (Non-member) / 5.000 yen (Student)
* Please enjoy Czech Wine, Beer and Czech Cuisine hand-made by Chef Pavel.

Program:

◆ 17:30 Door Open
◆ 18:00 Opening - Welcome Speech
Ambassador of the Czech Republic

◆ 18:10 ~ 18:30 Business Session
European Business Council in Japan (EBC)
& EPA (Economic Partnership Agreement
between EU and Japan)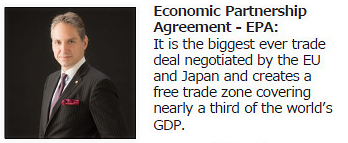 Business speaker: Mr. Michael Mroczek
Chairman of EBC
Partner at Okuno & Partners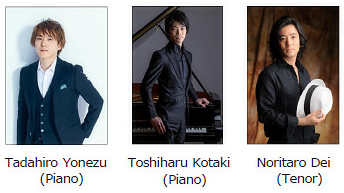 ◆ 18:30 ~ 19:00 Culture Session
Concert of the Classic Music
Mr. Tadahiro Yonezu (Piano)
Mr. Toshiharu Kotaki (Piano)
Mr. Noritaro Dei (Tenor)
----
"Slavonic dances" Antonin Dvorak
"Fantaisie sur Carmen" Georges Bizet
"Libertango" Astor Piazzolla
"Modlitba pro Martu (1968)"
Marta Kubišová (N. Dei, Tenor)
----
◆ 19:00 ~ 20:30 Networking Party

◆ 21:00 Door Closing