News: April 17, 2020
[OPEN CALL]
"Co-Funding Program" for International Joint R&D Projects Between Japan and Czech by NEDO
NEDO / 2020年度「国際研究開発/コファンド事業」(対象国:チェコ、他)に係る公募について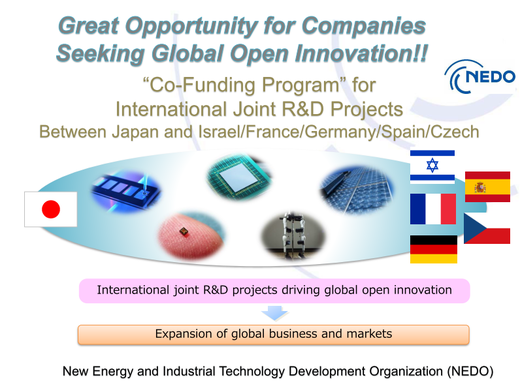 NEDO offers a great opportunity for companies seeking global open innovation.
The fund will be granted to both Japanese and Czech companies after being reviewed by the organization in both countries. Target areas of the joint R&D are new energy, energy conservation, smart communities, environment, robots and artificial intelligence (AI), internet of things (IoT), materials, nanotechnology, and others.
The call will be open from June 2020. For more details, please visit the official page of NEDO.
国立研究開発法人新エネルギー・産業技術総合開発機構(NEDO)では、標記助成事業の実施者を一般に広く募集しています。本事業は、日本企業(研究機関、大学等とのコンソーシアムも可。以下「企業等」という。)が海外の企業等と行う国際共同研究開発プロジェクトに対し、NEDOが海外の技術開発マネジメント機関等と連携して「コファンド形式」の資金支援(日本企業等に対してNEDOが、海外の企業等に対して海外の機関が支援)を行うことにより、新技術等の海外展開促進に資することを目的として実施します。対象とする技術分野、国・地域は以下を予定しています。
【対象技術分野】
NEDOが所掌する新エネルギー、省エネルギー、スマートコミュニティ、環境、ロボット・AI、IoT、材料・ナノテクノロジー等の分野
【対象国・地域】
イスラエル、フランス、ドイツ、スペイン、チェコ、イギリス、カナダ
公募開始予定日: 2020年6月上旬
[Japanese only]
2020年度「国際研究開発/コファンド事業」(対象国:イスラエル、フランス、ドイツ、スペイン、チェコ、イギリス、カナダ)に係る公募について(予告)https://www.nedo.go.jp/koubo/AT091_100162.html
<Reference>
"Co-Funding Program" in 2019
https://www.nedo.go.jp/koubo/AT092_100147.html
Program summary of "Co-Funding Program" in 2019 (both in Japanese and English)
https://www.nedo.go.jp/content/100885853.pdf
For inquiry:
NEDO 国際部 コファンド担当
TEL:044-520-5190 FAX:044-520-5193
E-MAIL:international@ml.nedo.go.jp