News: July 30, 2021
【動画公開中】Now available on YouTube "CONNECT2021 Summer"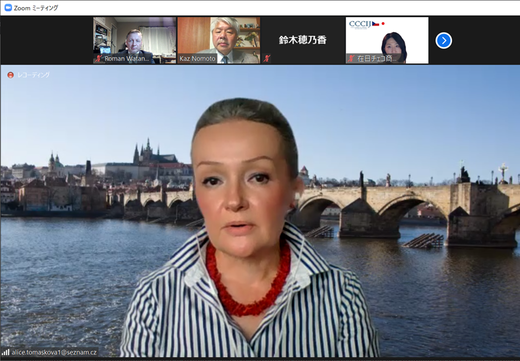 English follows Japanese
在日チェコ商工会議所主催オンラインイベント「CONNECT 2021 Summer」を2021年7月15日(木)に開催いたしました。ご参加いただいた方々にはこの場をお借りして改めて御礼申し上げます。
もう一度イベントをご覧になりたい方、あいにく当日はご参加いただけなかった方など、是非YouTubeにて当日の模様をご覧ください。
画像をクリックすると動画が再生されます
[プログラム]
■在日チェコ商工会議所よりご挨拶
渡邊 ロマン CCCIJ在日チェコ商工会議所 会頭

■駐日チェコ共和国大使館よりのメッセージ
ヴラジミーラ・ヒルシュ様
駐日チェコ共和国大使館 次席、政治部・経済部主管

■在日チェコ商工会議所のご紹介
渡邊 ロマン CCCIJ在日チェコ商工会議所 会頭

■特別プログラム 狂言「柿山伏」
オンジェイ・ヒーブル様 なごみ狂言会チェコ

~各会員様からの最近のニュース、活動状況についてのご発表~

■「JSL MeTHOD」 
株式会社JSLインターナショナル PRマネージャー 島尻 悠様

■「砂のスピーカー「DEEPTIME」」 
ベッドフォードサウンド 代表 松本 学様

■「日本で動いているチェコ製水車の紹介」 
日本小水力発電株式会社営業部 鈴木 穂乃香様

■最近のチェコの状況について (チェコからのレポート)
アリーチェ・トマシュコヴァ CCCIJ在日チェコ商工会議所 チェコ支店

モデレーター: 野本 一夫 (在日チェコ商工会議所 副会頭)

アンケートのお願い
なお、当日ご参加いただいた方も、これからYouTubeでご覧になる方も、以下のフォームよりアンケートにご協力いただけないでしょうか。今後のイベントの企画に役立てたいと考えておりますので、皆様の率直なご意見を頂戴できますと有難く存じます。(アンケートは無記名、所要時間1分程度です)
どうぞ宜しくお願い申し上げます。 
---
We are very happy to report to you that the online event "CONNECT 2021 Summer" organized by the Czech Chamber of Commerce and Industry in Japan and held on Thursday, July 15, 2021, was successfully closed. We would like to take this opportunity to thank all those who participated.
If you would like to watch the event again, or if you were not able to attend the event on the day, please have a look at the event on YouTube.

please click to play the movie

[Program]
■ Greeting from CCCIJ Chairman
Roman Watanabe, Chairman of CCCIJ

■ Greeting from Embassy of the Czech Republic in Tokyo
Ms. Vladimira Hirsh, Deputy Head of Mission, Head of PTS, Embassy of the Czech Republic in Tokyo

■ CCCIJ's introduction
Roman Watanabe, Chairman of CCCIJ

■ Special program: Kyogen "KAKIYAMABUSHI"
Mr. Ondrej Hybl, Nagomi Kyogen Czech

Report & Presentations "Recent activities and topics" from CCCIJ Members

■ JSL MeTHOD
Mr. Yu Shimajiri, PR Manager at JSL International Co., Ltd.

■ "SAND to SOUND", Czech desktop speaker, DEEPTIME
Mr. Manabu Matsumoto, Director at Bedford Sound Japan, LLC

■ Introduction of Czech water turbines working in Japan
Ms. Honoka Suzuki, Sales dept. at Japan Small Hydropower Co., Ltd.

■ Current situation in Czech (Report from Czech)
Ms. Alice Tomaskova, CCCIJ Czech branch

Moderator: Kaz Nomoto, Vice-chairman of CCCIJ


Whether you participated on the day of the event or will be viewing it on YouTube, it would be very much appreciated if you could send us your feedback through the questionnaire below. We would like to use it for future planning of the events to make it more satisfactory for everyone. (The questionnaire is anonymous and takes about 1 minute)

Thank you for your cooperation and we look forward to seeing you again soon.

---

Contact / お問合せ
Czech Chamber of Commerce and Industry in Japan (CCCIJ)
在日チェコ商工会議所(CCCIJ)
E-mail: secretary@cccij.com