News: June 20, 2022
会員限定イベント

バーベキューパーティー in 山梨 (7月30日)

Members-only: BBQ Party in Yamanashi (July 30, 2022)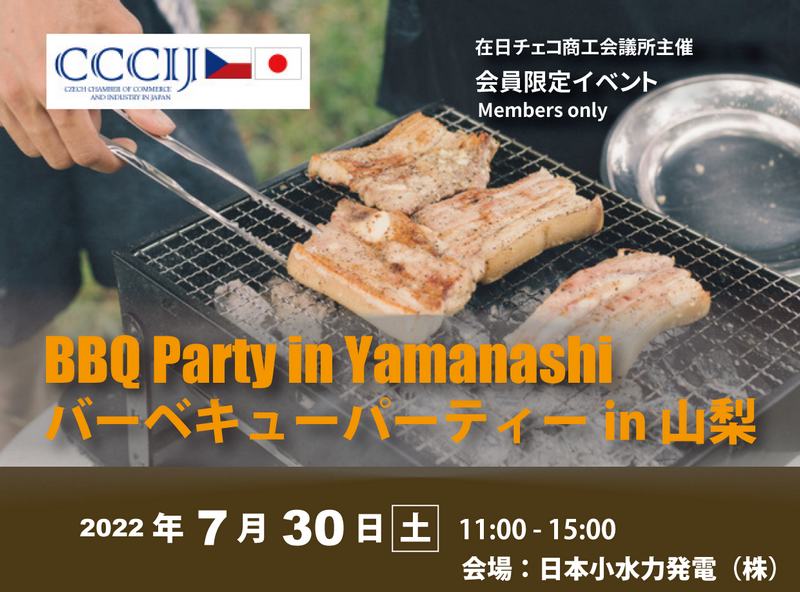 夏のイベントとして会員様向けのイベントを企画いたしました。法人会員である日本小水力発電株式会社様のご協力により山梨県北杜市にある同社の敷地にてバーベキューパーティーを開催いたします。夏の八ヶ岳の大自然の中でバーベキューを楽しみながら会員同士の親睦を深める一日となれば幸いです。なお、同社に展示されているチェコ製水車の見学もできる貴重な機会となっております。沢山の会員の方々の参加をお待ち申し上げます。
(会員限定イベント)バーベキューパーティー in 山梨
日時:2022年7月30日(土)11:00-15:00
会場:日本小水力発電株式会社(山梨県北杜市大泉町谷戸 3905 番地)
会費:3,000 円 (中学生以上) 1,000 円 (小学生以上)
会員のご家族の参加も大歓迎です。法人会員は会費の代わりにバウチャーもお使いになれます。
主催:在日チェコ商工会議所
協力:日本小水力発電株式会社
会場(日本小水力発電株式会社)へのアクセス:
JR 中央本線 小淵沢駅から車で 15 分
または中央自動車道 長坂 IC から約 10 分
駐車場あり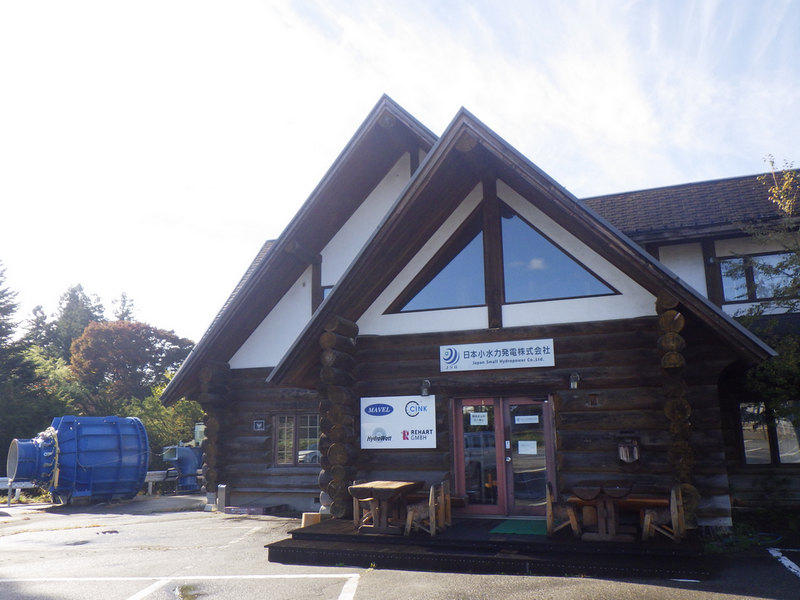 交通・宿泊:
各自ご手配ください(会費には含まれておりません)

お申込みとお支払い:
CCCIJ会員の方はこちらからお申込みとお支払いをお願いいたします。
1,000 円 (小学生以上)
*Storesページに遷移します

参加者へのお願い:
新型コロナの感染拡大防止のため、安全衛生上の注意を払い開催します。本イベントでは、手指消毒、ソーシャルディスタンスの確保にご協力お願いいたします。また、当日発熱している場合や体調がすぐれない方は、イベントへの参加をご遠慮いただきますようお願いします。
免責同意について:
当イベントに参加するにあたって会場への往復路、及びイベント中や会場敷地内で起こった事故やケガにつきましては全てお客様ご自身の責任となります。当イベントに参加することに関連する全てのリスク(自然災害、悪天候による影響、交通のトラブル、他の参加者様とのトラブルなど)を理解した上でご参加下さい。当イベント参加にあたり個人の持ち物(貴重品を含む)はお客様自身での自己管理となっておりますことを予めご了承下さい。
お申込みとお支払いの締め切り:
2022年7月15日(金)まで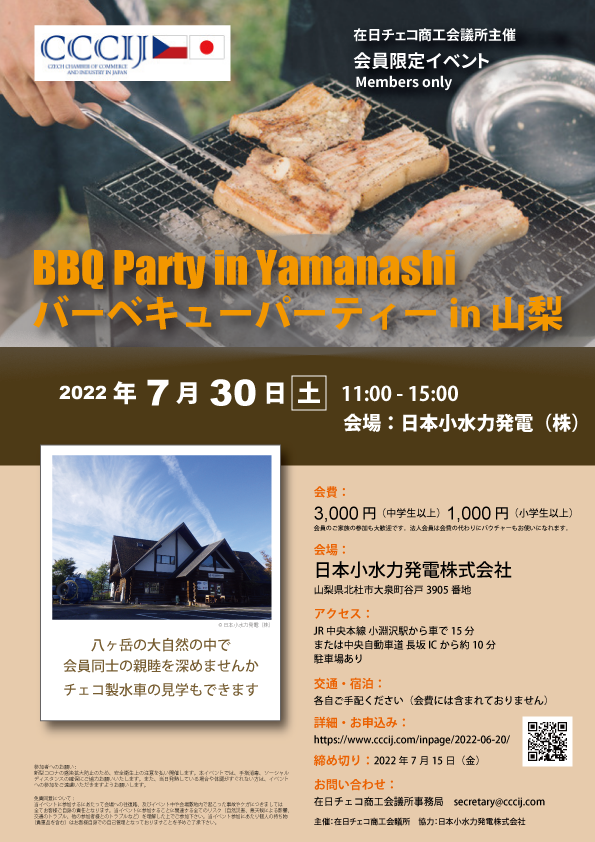 BBQチラシ
(PDF | 476.75 kB)
お問合せ
交通や宿泊に関してご不明な点がありましたら遠慮なく事務局までお問い合わせください。
在日チェコ商工会議所(CCCIJ)事務局
E-mail: secretary@cccij.com
---
CCCIJ is pleased to announce that we have planned a summer event for our members. With a great deal of cooperation from our corporate member, Japan Small Hydropower Co., Ltd., we will hold a barbecue party at the company's site in Hokuto City, Yamanashi Prefecture. We hope it will be a wonderful day to deepen our friendship among members while enjoying a barbecue in the great nature of Yatsugatake, where the best place to visit in summer. It will also be a good opportunity to see the Czech turbines for the hydroelectric power plant displayed at the company. Please join us and enjoy the summer party together.
(Members-only) BBQ Party in Yamanashi
Date: Saturday, July 30, 2022 11:00-15:00
Venue: Japan Small Hydropower Co., Ltd. (3905 Yado, Oizumi-machi, Hokuto City, Yamanashi, Japan)
Fee: JPY 3,000 yen (junior high school students and older) JPY 1,000 (elementary school students and older)
Family members are also welcome. Corporate members can use vouchers instead of paying the fee.
Organized by: Czech Chamber of Commerce and Industry in Japan
Cooperation: Japan Small Hydropower Co., Ltd.
Access to the venue (Japan Small Hydropower) 
15 minutes by car from Kobuchizawa Station on JR Chuo Main Line
10 minutes from Nagasaka IC on Chuo Expressway
Parking lot available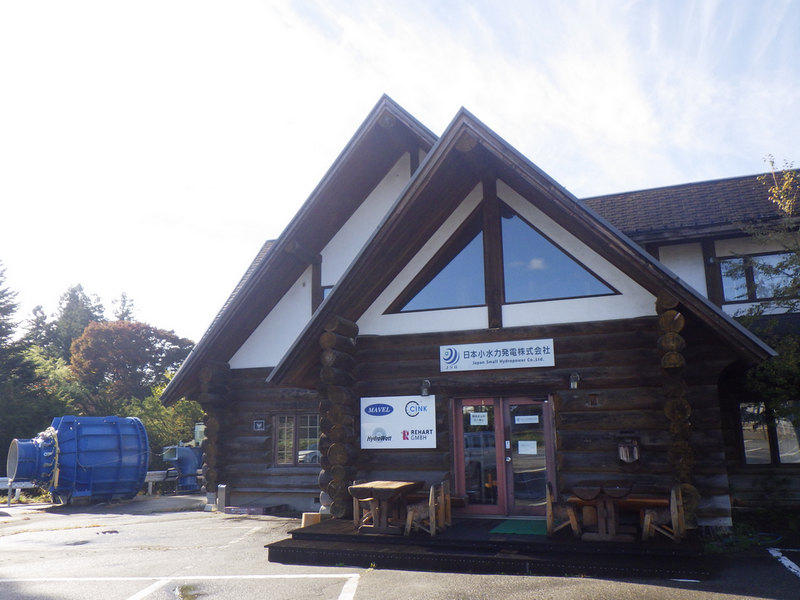 Transportation and Accommodation:
Please make your own arrangements (not included in the fee)
Sign-up and payment:
Request to participants:
Health and safety precautions will be taken to prevent the spread of COVID-19. Please cooperate with requests to sanitize hands and maintain social distancing during this event. Please refrain from participating in this event if you have a fever or feel unwell.
Disclaimer of Liability:
You are solely responsible for any accidents or injuries that occur on your way to and from the event, during the event, or on the event site. You understand all risks associated with participating in this event (e.g., natural disasters, inclement weather, traffic problems, problems with other participants, etc.). Please note that you are responsible for your personal belongings (including valuables) when participating in this event.
Deadline for registration and payment:
Friday, July 15, 2022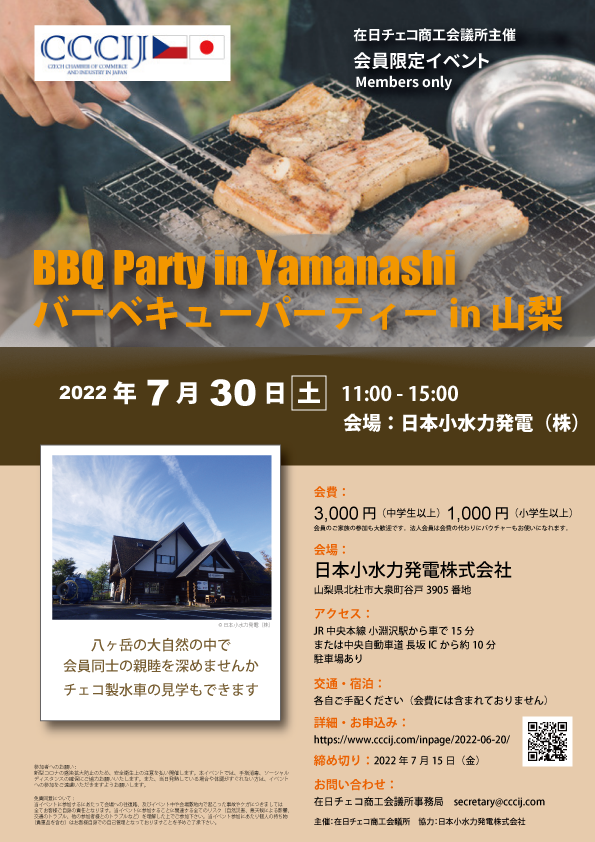 BBQ leaflet *Japanese version only
(PDF | 476.75 kB)
Contact
Should you have any questions about transportation or accommodations, please do not hesitate to contact the secretariat.
Czech Chamber of Commerce and Industry in Japan (CCCIJ)
E-mail: secretary@cccij.com