News: January 31th, 2014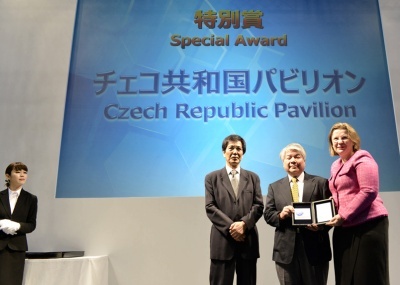 Elmarco Ltd., a CCCIJ corporate member marked an outstanding achievement, as the Czech pavilion received the Special Award.
Elmarco, a CCCIJ member company, participated in Nanotech 2014, which was held on 29-31, January, 2014 in Tokyo, Japan. Elmarco had a booth in the Czech Pavilion, which is organized and supported by Czech Trade and the Czech Embassy in Japan. Nanotech is the biggest exhibition in Asia related to various kinds of nano-technology. According to the organizer 45,841 visitors have attended the 3-days event.
http://www.nanotechexpo.jp/index.html
Elmarco launched NS Lab, a new low end model, the first time in the world into the market, and arranged non-stop demonstration of nanofiber electro spinning process of NS Lab during exhibition.
The press release of NS Lab for media people was held in the first day of show went, and Nikkan Kogyo Shimbun (Business & Technology) and Sen-I Shimbun (Textile News), popular industrial daily newspapers showed articles with photo immediately in the next day.
In addition, Czech pavilion received a special award from the organizer, as only party who receives award as non-Japanese exhibitor, and reasons for award states because of Elmarco's excellent technology and business in industrial commercialization of nanofiber products in the world.
http://www.nanotechexpo.jp/main/report.html
Elmarco received approx. 200 sales leads in total 3 days. Elmarco's leading position in this field was further strongly recognized. CCCIJ had its January executive meeting during Nanotech 2014, which is already reported by Mr. Roman Watanabe. Special thanks to all CCCIJ members including Ms. H. E. Katerina Fialkova, Mr. Marcel Sauer and Ms. Miyuki Shirato from Czech Embassy who gave great support for our activities at Nanotech 2014.