News: April 10th, 2015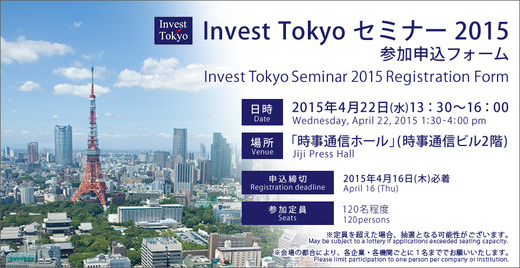 Introducing of Invest Tokyo Seminar 2015
Date: Wednesday, April 22, 2015 1:30-4:00 pm (25min. coffee break / Networking mixer)
Venue: Jiji Press Hall (Jiji Press Building 2F) / Access here >>
With the aim to draw more talent, information, and investment, and transform Tokyo into a city that is even more open to global business, the Tokyo Metropolitan Government (TMG) is advancing efforts to attract foreign companies and develop a business-friendly environment.
The Invest Tokyo Seminar 2015, which aims to encourage foreign companies to expand business to Tokyo, will be held on April 22, 2015, at the Jiji Press Hall for foreign affiliates planning to establish their regional headquarters or R&D center in Tokyo's special economic zones, as well as the foreign embassies and chambers of commerce in Japan that support them.
This seminar will provide you with the opportunity to learn about Tokyo's various incentives and support for foreign companies, such as free consulting services, a subsidy program, business and living support provided by the Business Development Center Tokyo, and the Tokyo One-Stop Business Establishment Center, which provides support for procedures related to company establishment. In addition to this, there will be a special lecture by an expert on business management strategy and a talk session by the representatives of foreign companies who received TMG's support in their advance into Tokyo's special economic zone. One-on-one consultations will be held after the seminar.
To register for participation, please refer to the seminar website (https://invest-tokyo.jp/form).