News: June 3rd, 2015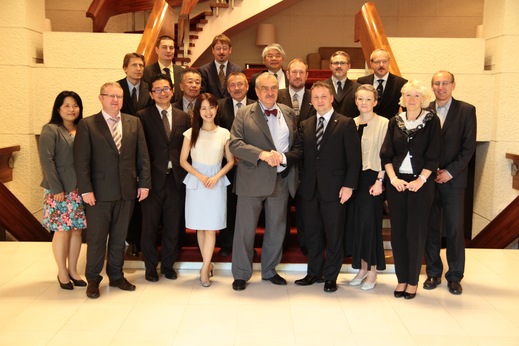 Foreign Affairs Committee of the Czech Parliament meeting with CCCIJ in Japan on June 3, 2015.
On June 3, 2015 our Czech Chamber of Commerce and Industry in Japan has great opportunity to meet delegation of the Foreign Affairs Committee of the Chamber of Deputies of the Parliament of the Czech Republic, headed by its Chairman K. Schwarzenberg. The meeting was held at the Czech Embassy in Tokyo and discussion was leaded by Ambassador Mr. Dub. We introduced our Chamber, each participated members and explane mission of our Chamber. Chairman K. Schwarzenberg and all delegation members explane how important role we play in relations between our two countries Czech Republic and Japan, especially because we are permanently located in Japan and know about japanese market and society. Discussion was very friendly and positive with many topics about future cooperation.
Members of the Czech delegation:

Mr. Karel SCHWARZENBERG
Chairman of the Foreign Affairs Committee

Ms. Jana FISCHOVÁ
Vice-chairperson of the Foreign Affairs Committee
Member of the Committee on Public Administration and Regional Development

Mr. René ČÍP
Vice-chairperson of the Foreign Affairs Committee
Member of the Committee on the Budget

Mr. Pavel HOLÍK
Vice-chairperson of the Foreign Affairs Committee
Member of the Committee on Health Care

Mr. Pavel PLZÁK
Member of the Foreign Affairs Committee
Vice-chairperson of the Committee on Petitions