News: June 4th, 2015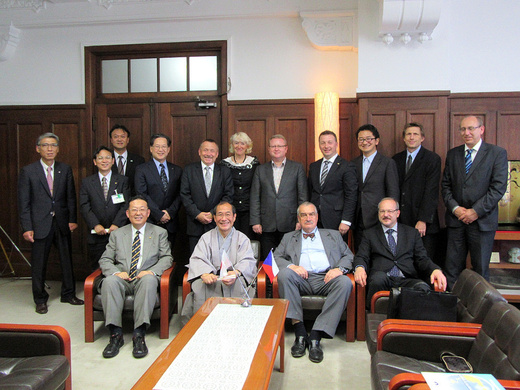 Foreign Affairs Committee of the Czech Parliament, Czech Embassy and CCCIJ meet Kyoto Mayor and government of Kyoto on June 4, 2015.
Delegation of the Foreign Affairs Committee of the Chamber of Deputies of the Parliament of the Czech Republic, headed by its Chairman K. Schwarzenberg, visited Japan between May 30 – June 5, 2015. Main purpose of the visit was a series of meetings with the Foreign, Economic and Security Committees of the House of Representatives, respectively. Czech and Japanese sides discussed further development of bilateral relations in the fields of economy, security, politics and culture. and engaged in exchange of views on various international developments. Check also website of the Embassy of the Czech Republic >>
On the June 4th, 2015 delegation met Mayor of Kyoto Mr. Kadokawa, Deputy Mayor Mr. Fujita, Vice Chairman of Kyoto City Assembly Mr. Daido and another directors from Kyoto Government. The main topic was cooperation and friendship between Czech Republic and Japan and sister cities relation between Prague and Kyoto which will celebrate 20th Years Anniversary next year in 2016!