News: July 7th, 2015
Launching of the Czech Presidency of Visegrad Group in Japan.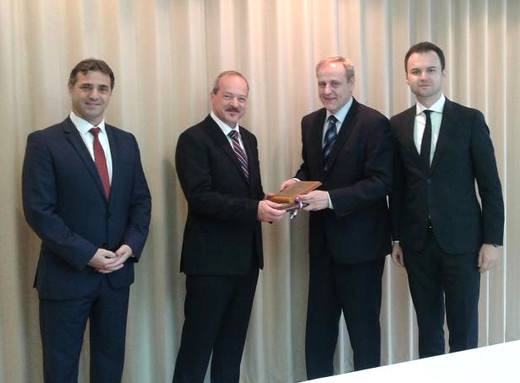 Article and photo was used from Embassy of the Czech Republic in Tokyo.

Information on the launching of the Czech Presidency of the V4 in Japan

On July 1, 2015, the Czech Republic took over the Presidency of Visegrad Group (V4) from their Slovak friends. On this occassion Embassies of the Slovak Republic and the Czech Republic in Tokyo jointly hold V4 Ambassador´s working lunch in the premises of the Czech mission. At the lunch activities of the past presidency were evaluated and upcoming presidency´s priorities presented, followed by discussion on activities of the group to be taken in Japan.
During the Slovak presidency many cultural activities took place in the framework of the "Year of the Exchange between V4 and Japan" as well as seminars on cooperation in the field of Science and Technology - the main theme of the past presidency.
Under the Czech presidency focus of activities in Japan will shift back on policy and security dialogue. Practical cooperation in the fields of culture, tourism and S&T will continue. Detailed information on upcoming events will be availble through website of Embassy of the Czech Republic or Czech Chamber of Commerce and Industry in Japan (CCCIJ).