News: March 28th, 2016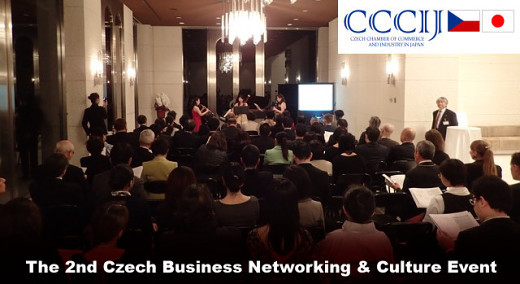 Invitation and application form download:
- English version (PDF)
- Japanese version (PDF)



INVITATION
to the 2nd Czech Business Networking & Culture Event

Dear CCCIJ Members, Business partners and Friends,
Czech Chamber of Commerce and Industry in Japan (CCCCIJ) is pleased to initiate a new project of Czech Business Networking & Culture Event. This event will be held every two or three months throughout year, and is designed to give opportunities for all CCCIJ Members as well as their business partners and friends to meet regularly, so that all members can know each other well, and can meet new business people and friends.
In the Business session of this event, we can share past, current and future activities of CCCIJ and its members, which mean this event is an opening gate towards various CCCIJ business activities for all members.
In addition, in order to invite and attract more members and guests to participate, we will have Culture session in the same event. We will invite artists, expert of cultures in specific fields every times, then introduce and entertain fine arts and cultures including those from Czech Republic.
The event is held at Czech Embassy in Tokyo, a very special and beautiful facility, located in the middle of Tokyo downtown, where we will serve delicious foods and drinks from Czech Republic in the Networking Party.
Your participation to the event will be highly appreciated.

Details
Date & Time: Thursday, 7th April, 2016 18:00 – 21:00

Venue: Embassy of the Czech Republic in Tokyo, Ground Ball Hall
Address: 2-16-14 Hiroo, Shibuya-ku, 150-0012 Tokyo
Access: http://www.mzv.cz/tokyo/en/kontakty.html
Participation Fee:
CCCIJ Members: Yen 4,000
Non-CCCIJ Members: Yen 5,000
(Receipt will be available if necessary. Czech wine, beer and cuisine will be prepared)
Application:
CCCIJ secretariat would like to ask you to send your intention of "YES - Participation" or "NO - Not participation" for the 2nd event to the following e-mail address or fax numbers by Friday, 1st, April, 2016.
E-mail: event@cccij.com

Or download Application Form and send by Fax.
- English version (PDF)
- Japanese version (PDF)
******************************************************************************************************
PROGRAM
17:30 - Door Opening & Reception

18:00 Opening announcement
Welcome speech by a representative from Czech Embassy in Japan
1) Culture Session (18:10 – 18:40)
- Guest: Baritone singer – Seiichi Furukawa, Piano – Lisa Nakazono
2) Business Session Lectures (18:40 – 19:10)
- Guest: Mr. Koichi Takahashi, President of Japan Czech Friendship Association
- Guest: Ms. Setsuko Otaka, Honorary Chairman of Japan Czech Friendship association
- Introduction of Partner: Ms. Martina Cílková, Interim director at CzechTourism Japan
3) Networking Meetings and Party (19:10 – 21:00)

21:30 Door Closing

******************************************************************************************************
We are very much looking forward to seeing many of you on Thursday, April 7th, 2016 at Czech Embassy.
Roman Watanabe
Chairman of Czech Chamber of Commerce and Industry in Japan (CCCIJ)