News: October 21th, 2017
National Day of the Czech Republic (October 28th)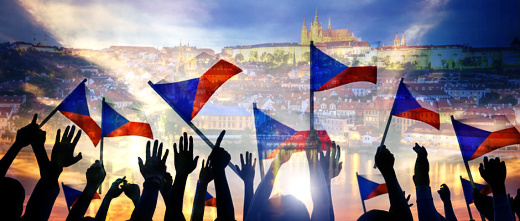 Always celebrated on 28 October, this day is the National Day of the Czech Republic. This holiday commemorates the date in 1918 when Czechoslovakia was created.
History of Independent Czechoslovak State Day
The area of Czechoslovakia had been a part of the Austro Hungarian Empire until the Empire collapsed at the end of World War I. The Czech speaking areas of Bohemia and Moravia had been under Austrian rule while Slovakia was part of Hungary.
Before World War I, there had been nationalist movements in both the Czech lands and Slovakia. Despite the Czech area being an industrialised region and Slovakia being a mainly agricultural based country, the two regions took the opportunity to become a new nation.
'Czechoslovak' independence was proclaimed in Prague's Wenceslas Square on 28 October 1918. The president of the 'First Republic' was Tomáš Garrigue Masaryk, who was the leader of the nationalist movement outside the Austro Hungarian Empire.
How is Independent Czechoslovak State Day celebrated?
On this day, the president of the Czech republic, together with key members of the government will place flowers on the grave of president Masaryk. In the evening, the Czech president will present honours and awards to leaders of cultural and social life in the Czech Republic.

Video Flashback:
Czech National Day in Tokyo. October 28, 2015 (Czech Embassy in Tokyo)