100th Anniversary of Czechoslovakia in Oct. 28, 2018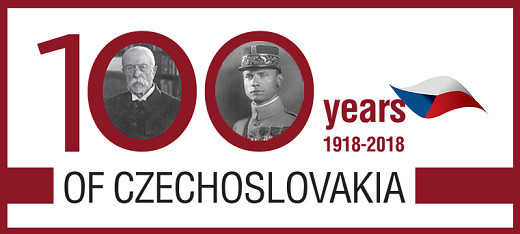 In 2018, the citizens of the Czech and Slovak Republics will mark a date that invites them to celebrate the 100 year anniversary of their common independent state – the Czechoslovak Republic. During this past century together, the Czechs and Slovaks have been witness to many great stories that will always hold a special place in their history. It all began in 1918, when both nations' shared desire for a sovereign state became a reality.

Newly elected Tomáš Garrigue Masaryk, a philosopher, educator and a genuine state-maker, deserves the greatest credit for the creation of a common state and is worthy of the title president – liberator. Another important milestone that is a great source of pride for Czechs and Slovaks is the so-called Prague Spring of 1968 when, seeking liberation and escape from dictatorship, the movement was forcibly ended by the invasion and occupation of the Warsaw Pact troops.

And last but not least, it is 1993, when Czechoslovakia was, in a cultured and peaceful way, divided into two new, completely sovereign states within an integrating Europe. It was a peaceful divorce appreciated by the entire civilised world.

The history continues, but the Czechs and Slovaks are still close. In the best sense of the word, they can be proud of their time side by side and boldly commemorate the stormy, joyful and even tragic events today. Famous figures that, by their way of thinking, moved Czechoslovakia forward represent an inspiration for the 21st century.

Also we Czechs and Slovaks living in Japan, may we remember this important date in our history together on 28th of October 2018. Let`s never forget our motto that has been connecting our two great friendly nations, motto that will last forever Pravda Vitezi.