ニュース: 2023年8月8日
(2023年9月12日)
Tokyo YCN Czech Embassy Concert 2023
東京YCNチェコ大使館コンサート2023のお知らせ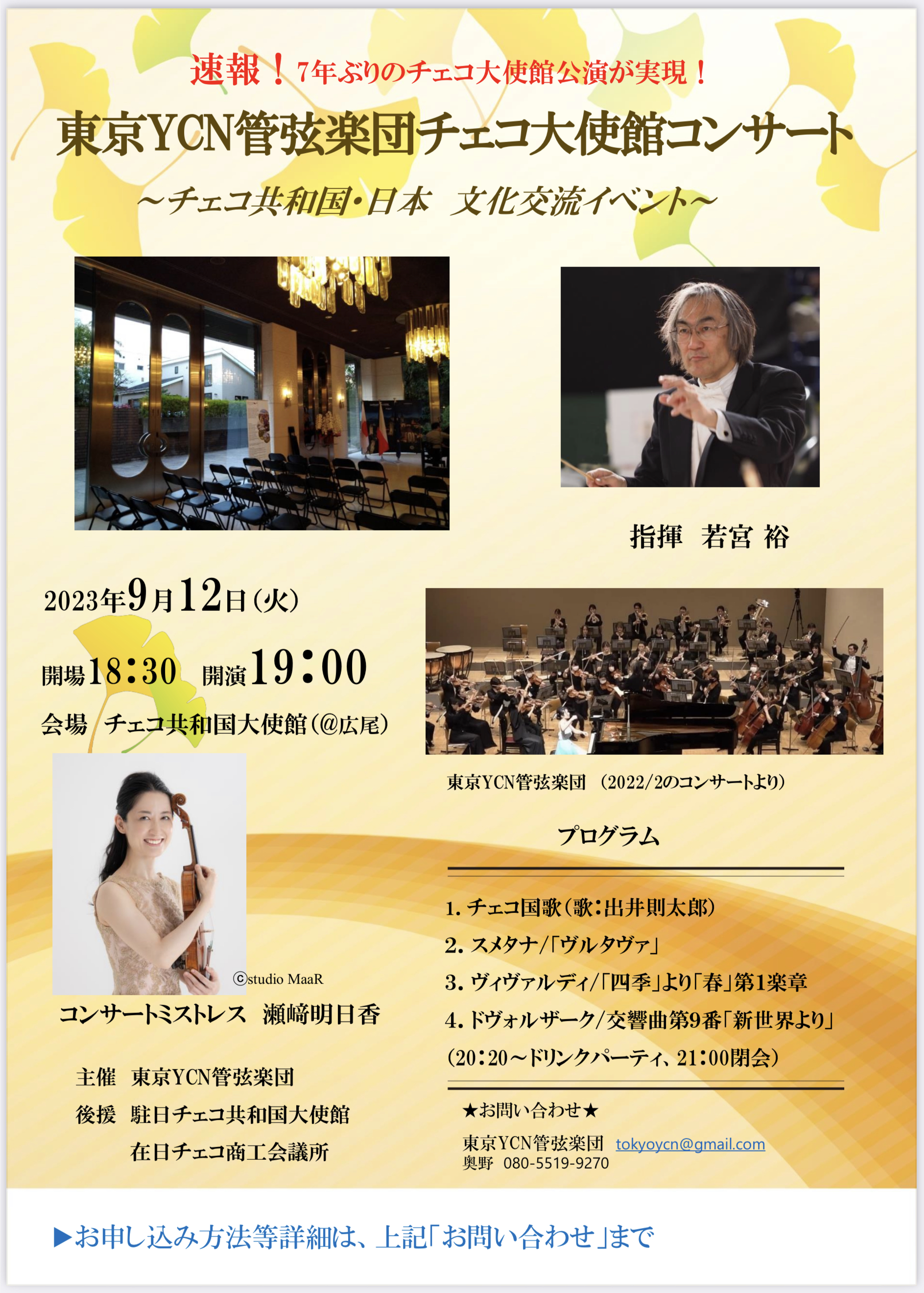 Flyer Download / チラシダウンロード(PDF | 430.09 kB)
在日チェコ商工会議所の会員、ビジネス・パートナー、ご友人の皆さま
本日は、在日チェコ商工会議所が後援する「チェコ大使館イベント」をご案内いたします。7年ぶりにチェコ大使館にて行われるオーケストラコンサートです。
日時:2023/9/12(火)19:00~21:00
会場:チェコ共和国大使館
出演:若宮 裕(指揮)、瀬﨑明日香(コンサートミストレス)、東京YCN管弦楽団
プログラム:スメタナ「ヴルタヴァ」、ドヴォルザーク交響曲第9番「新世界より」他
演奏終了後にはドリンクパーティも予定されています。
皆さま、ぜひ奮ってご参加下さい。
詳細情報・申込方法等は、以下までお問合せ下さい。
東京YCN管弦楽団 tokyoycn@gmail.com 

Dear members, business partners and friends of Czech Chamber of Commerce and Industry in Japan
We are pleased to announce a Czech Embassy event supported by Czech Chamber of Commerce and Industry in Japan. This will be the first orchestra concert at the Embassy in 7 years.
Date and time: Tuesday, 12 September 2023, 19:00-21:00
Place: Embassy of the Czech Republic in Tokyo
Performer: Yutaka Wakamiya (conductor), Asuka Sezaki (concert mistress), Tokyo YCN Orchestra
Program: Smetana "Vltava", Dvořák Symphony No. 9 "From the New World", etc.
There will be a drinks party after the concert.
Please come and join us!
For further information and application, please contact the following.
Tokyo YCN Orchestra: tokyoycn@gmail.com